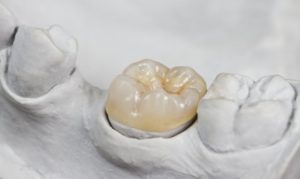 Recently, you had some restorative work done that required a new dental crown. So now that your tooth is fully restored, how should you care for the new fixture? Your local dentist says that for your crown to have a long reign, treat it like royalty. As you read on, you'll learn how to properly care for dental crowns in Charlottesville!
How to Care for Your New Crown
After your new crown has been secured and your tooth is fully restored, what should you do and avoid so that it can last longer? Here are a few tips to keep in mind:
Practice Excellent Oral Hygiene – Although your permanent fixture isn't susceptible to tooth decay, your gums and other teeth are. Thus, it's still very important to practice excellent oral hygiene (which includes brushing and flossing at least twice a day) to ensure that you keep harmful bacteria under control. Furthermore, the health of your gums and other teeth factor into the lifespan of your new crown.
Choose Healthier Foods – The healthier choices you make with your food selection, the better the environment will be inside your mouth. As a result, your pH level will be a little higher, which reduces the acidity of your oral cavity and makes it less welcoming for bacteria.
Visit Your Dentist – When you go in for semi-annual visits to get your teeth cleaned and receive a full examination, it's also a great time for your dentist to check the condition of your dental crown. Thus, you'll be able to leave the office with beautiful teeth and the confidence of knowing that your mouth is in great shape.
Avoid Teeth Grinding (Bruxism) – Bruxism takes a major toll on the health of your teeth and can drastically reduce the longevity of your crown restoration. Once you become aware of this problem, you should let your dentist know, so that you can get the help you need.
Is the Crown a Sound Fixture?
Maybe you have concerns about whether a crown restoration is durable, given that so many things have to be done to maintain it. Custom-made from ceramic, your crown is very strong and designed to last. Just like the strong enamel on your teeth, though, the dental crown is still vulnerable to damage. But as long as it's cared for with the same attention and cleanliness that is required to keep your natural crowns healthy, your permanent fixture will last for years to come!
To learn more about how you can care for your crown, reach out to your dentist in Charlottesville today.
About the Author
A graduate of the University of Tennessee, Memphis, Dr. Hal M. Lippard has been practicing dentistry for over 20 years. His years of experience don't stop him from pursuing more knowledge, which is why he attends continuing education courses each year. Dr. Lippard stays abreast of the latest changes in the field of dentistry to provide his patients with the royal treatment and can be reached for more information through his website.