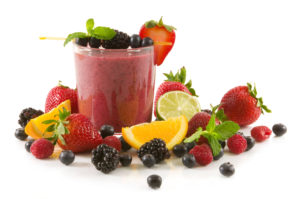 As summer temperatures soar, you find yourself thirsty for something cool and refreshing. You're left wondering if there's a way to satisfy your cravings in a healthy way. Your dentist in Charlottesville says there is, and as you read on, you'll learn about 3 delicious smoothies that will tickle your taste buds and protect your beautiful smile!
Strawberry and Watermelon Smoothie
This smoothie is a great combination of delicious flavors and nutrients. In a blender, combine the following:
2 cups fresh watermelon
1 cup frozen strawberries
1 ripe and peeled banana
¾ cup plain, non-fat Greek yogurt
Both the watermelon and strawberries are packed with vitamin C, which helps to rid your mouth of harmful free radicals that can contribute to gum degeneration. The yogurt is a great source of protein (casein) and calcium that help to strengthen your teeth.
Green Mint Smoothie
This smoothie is also loaded with deliciousness that provides a nutrient-dense snack. Again, using a blender, combine these ingredients:
2 frozen bananas
2 cups kale, packed
2 tbsps chopped mint, packed
½ tbsp cocoa powder
2 cups coconut milk
½ cup of apple juice
This combination delivers a flavor-bomb that's packed with nutrients. The kale provides calcium to strengthen your teeth and vitamin B to prevent and treat gum disease. The coconut milk and apple juice, then, act as natural sweeteners that allows you to enjoy the taste without worrying about the harmful effects of processed sugars.
Blueberry and Yogurt Smoothie
The combination of blueberry and yogurt provides the perfect cool-down smoothie for summer. Blend the following ingredients together on high-speed in your blender:
1 ripe banana
1 cup frozen blueberries
1 cup nonfat plain yogurt
You've already learned about the benefits of yogurt. In this smoothie, it's married with blueberries, which are great antioxidants that raise the pH level in your mouth and make it harder for bacteria to survive. The banana serves as a natural sweetener that rounds out the deliciousness of this smoothie.
The theme here is that healthy eating doesn't have to be miserable or boring. By using a little creativity, you can enjoy wonderful flavors in a safe and effective way.
For more tips on how to fortify your oral health in an easy and enjoyable manner, reach out to Dr. Lippard today. When you come in for a preventive care visit, he'll be happy to provide some other pointers on how you can sustain your healthy teeth and gums for years to come.
About the Author
Dr. Hal M. Lippard earned his dental degree from the University of Tennessee, Memphis. He then went on to serve his country for four years as a member of the U.S. Army Dental Corps and then continued his service for another 17 years as a member of the U.S. Army Reserves. Dr. Lippard helps patients think "outside the box" when it comes to their oral health at his private practice and can be reached for more information through his website.