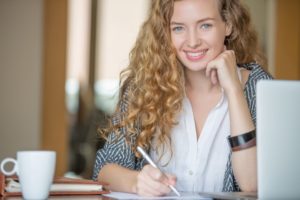 You understand how important your dental health is, but it's much easier to maintain certain standards when you're at home. A challenge is that a great portion of your day is spent at work. Thus, you're left wondering how you can maximize your efforts while on the job to ensure that there are no lapses in your oral care. As you read on, your dentist in Charlottesville weighs in with the do's and don'ts that you should remain aware of.
Time – The Great Challenge
The biggest issue that working presents is that you have less time to dedicate to your well-being. As a result, your oral hygiene and dental health can suffer. One key is to fully assess what your responsibilities and requirements are, so that you can figure out creative ways to work around them.
What You Should Do at Work
Since you spend a good portion of your day at work, you'll likely eat at least one meal while there. That means that there is an even greater need to have a dental hygiene strategy in place.
Here's what you can do:
Dental Hygiene – Keep dental hygiene products like toothpaste, a toothbrush, floss and mouthwash handy. This will allow you to clean your mouth and teeth after eating a meal to prevent the growth of bacteria.
Drink Water – Water offers a plethora of benefits. Not only does it keep your body hydrated, it also helps to flush your mouth of bacteria and leftover food particles. Finally, by helping to hydrate your oral cavity, it raises the pH level, which makes it harder for bacteria to survive.
Chew Sugar-Free Gum – Chewing sugar-free gum is a way to generate saliva production throughout the day, which helps to coat the enamel of your teeth with helpful enzymes that strengthen it and prevent tooth decay.
Avoid These Activities at Work
Just as there are helpful things you can do while at work, there are also harmful activities that you should avoid, which include:
Grazing – Even if the foods you consume are considered to be healthy, it's not a good idea to graze all day while working. Your mouth will never have the time to recover and flush away leftover particles and bacteria when it's constantly bombarded with more food.
Eating Candy – While at work, it's easy to give in to eating sugary delights like candy. The results can be detrimental, though. Simple sugars are #1 on the list for bacteria to feed on. Thus, with every sweet bite, you'll be contributing to future cavities.
Submitting to Stress – It's also important not to give in to stress, which can lead to teeth grinding that wears down your enamel and leaves you more susceptible to infection and tooth loss. Instead, take a step back, when necessary, just to take a deep breath.
By keeping the above information in mind and maintaining regular visits to your local dentist, you can protect your oral health while at work and enjoy a beautiful, healthy smile for years to come!
About the Author
Dr. Hal M. Lippard earned his dental degree from the University of Tennessee, Memphis. After serving his country as a member of the U.S. Army Dental Corps, he went into private practice and has been a fixture in the Charlottesville area for over 20 years. To stay abreast of the latest changes in the world of dentistry, Dr. Lippard participates in continuing education and helps patients experience the absolute best in dental care. He can be reached for more information through his website.