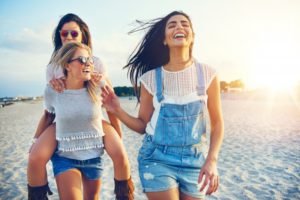 Do you have a huge list of summer events you're looking forward to attending? The only thing that's keeping you from jumping for joy at all of your fun plans is your smile. When you catch a glimpse of your misaligned or stained teeth before you leave your house, it makes you feel nervous about meeting new people. You enjoy striking up conversations, but out of embarrassment of your smile, you have a habit of covering your teeth with your hand. Instead of letting a few cosmetic imperfections ruin the best time of the year, let a dentist in Charlottesville make your grin one of your new favorite traits! Read on for 3 procedures that can refresh your smile so you can get the most out of your summer plans.
Professional Teeth Whitening
Instead of wasting your time and money on over-the-counter kits that make big promises but don't deliver, invest in professional teeth whitening. Your smile can be one of the first features that someone notices, which is why it doesn't hurt to brighten it for a great first impression. If you notice your teeth are yellowing, dull, or stained, this procedure can be the right option for you.
Your dentist will send you home with a kit that utilizes safe and proven professional-grade products like a whitening gel and trays that provide you with even coverage. This means the gel won't spread to your gums, but will stay on your teeth for the best results. You'll begin noticing a difference within the first week, and after 10 to 14 days, you'll have a confidence-boosting smile that you can't wait to show off.
Porcelain Veneers
If your smile suffers from multiple imperfections, porcelain veneers may be the best cosmetic treatment for you. You can love your smile again with these durable porcelain shells that are custom-fitted to conceal imperfections such as:
Severe discoloration that can't be fixed with teeth whitening.
Worn down teeth.
Chipped, broken, fractured, or cracked teeth.
Teeth that are misaligned, uneven, or misshapen.
Gaps between your teeth.
After a couple of visits with your dental professional, they will bond your custom-made porcelain shells to your teeth to renew your smile. They will look and feel natural, and when properly cared for, can be the long-lasting cosmetic solution you've been looking for!
Full Smile Makeovers
If you have even more imperfections that you're looking to fix, you may benefit the most from a full smile makeover. This procedure will address the issues that bother you the most. Your dentist will create a customized treatment plan to correct flaws that have caused your self-confidence to spiral. Treatments that your smile makeover may include are:
Gum disease therapy
Teeth whitening
Orthodontics
Dentures or other restorations
Porcelain veneers
Root canals
Tooth-colored fillings
Whether you need one or multiple treatments to enhance your smile in time for summer, your cosmetic dentist can help you create a plan to get you the results you're looking for. Get the most out of your summer and create new connections by getting a smile you won't want to hide. Not only can smiling more benefit your confidence, but it can also do wonders for your overall health!
About the Author
Dr. Hal Lippard has been in private practice for over two decades and keeps up with the latest advancements in his field by taking continuing education courses. He is also an active member of a variety of professional organizations so he can continue to provide his patients with the trustworthy treatment they deserve. With his top priority being patient-centered care, he enjoys establishing long-lasting bonds and caring for multiple generations of the same family. For questions or to schedule a consultation for a cosmetic service, visit his website or contact 434-293-9311.