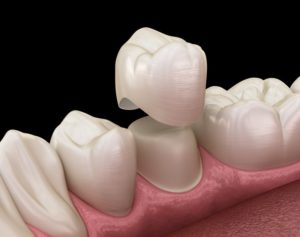 You recently found out that you have a cavity, and a big one at that. So big that a regular filling won't work. You have to get a crown, or a covering designed to slip over a tooth to protect it. What does the recovery process for dental crowns in Charlottesville look like? How can you take care of yourself afterwards? Keep reading to learn the answers.
At First, You'll be Numb from the Anesthetic
If your dentist in Charlottesville used a local anesthetic during the procedure, your mouth will be numb for up to a few hours afterwards. Sometimes patients will accidentally bite or burn themselves during this time because they are unable to notice the warning signs, like pain or heat. Therefore, it's recommended that you avoid crunchy or hot foods and drinks the day you get your crown. You may also experience some slight inflammation at the crown site, but this can be remedied with some ibuprofen.
You May Experience Discomfort or Sensitivity
Once the anesthetic wears off, it's completely normal to go through mild pain or sensitivity in the affected area of the mouth. This should only last a few days and can usually be fixed with over-the-counter pain medications. Your gums may be sensitive due to the dental cement, but you can relieve this with a topical anesthetic gel that you can find at most drugstores. Toothpaste for sensitive teeth may also work.
It's normal for the crown to feel a little weird at first as your mouth gets used to it. However, if the pain is severe or last for weeks, or if your bite feels strange, call your dentist. The crown may need to be adjusted into a better position.
How to Take Care of Your Temporary Crown
Most of the time, patients will need a temporary crown for a few weeks while their permanent one is being crafted in a lab. Here are some steps to make sure your temporary crown stays in good shape until then:
Brush your crown as you would a natural tooth
Avoid sticky or chewy foods that could dislodge the crown
Avoid crunchy foods that could break the crown
Try and chew most foods on the opposite side of your mouth
Don't floss next to the temporary unless you slide the floss instead of lifting it out
What to Do During Recovery
After you get your permanent crown placed, you should be able to eat, brush, and floss as normal. However, try to avoid sticky foods for the first 24 hours after placement to give the dental cement a chance to works its magic. Remember that crowns and the teeth underneath them are still susceptible to decay, especially along the gumline. Make sure to practice good oral hygiene to keep those pesky cavities at bay.
Getting a crown might sound scary, but it's a fairly simple procedure that can save your tooth in the long run. Be sure to follow these steps for recovery, and you should be perfectly fine.
About the Author
Dr. Hal M. Lippard has practiced dentistry in Charlottesville, Virginia for more than two decades now. He believes that involving himself in continuing education courses and professional and local dental organizations is the key to advancing his knowledge. To learn more about how he can protect your teeth with dental crowns, visit his website or call (434)-293-9311.