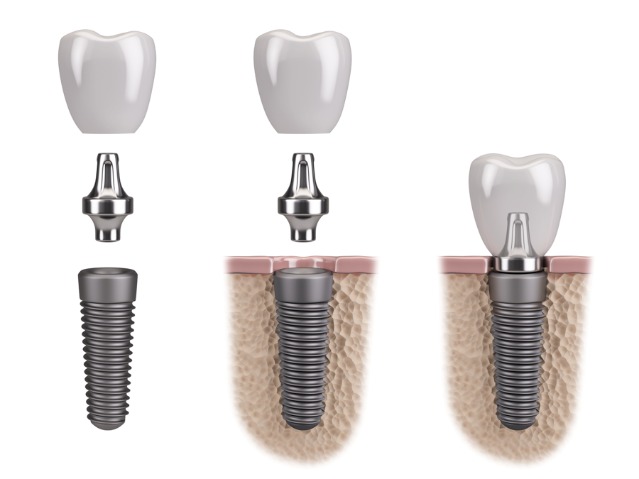 Dental implants are, without question, one of the best investments you'll ever make after tooth loss. In fact, most people's only regret is that they didn't get them sooner! But with any big decision, it's important to do your research so you have the right information beforehand. Unfortunately, there are 4 common dental implant myths in Charlottesville that may cloud your judgment. Keep reading to learn the truth about these misconceptions and get one step closer to enjoying a beautifully restored smile!
1. "Discount Implants Are a Great Way To Save Money"
More and more in recent years, "bargain" implant centers have begun to advertise cheaper implants for people searching for a low-cost solution to tooth loss. While some may be legitimate, it's strongly recommended that you spend time learning about the dentist's training and the type of materials they use first. Implants can last 30 years or more with basic care, but only when they're done by a well-qualified implant dentist. And you don't want to invest your hard-earned money on something that doesn't work well from the start.
2. "Implants Look Fake"
The restorations that are used to complete implants (e.g. a dental crown, bridge, or denture) are the same as the ones used to restore natural teeth. A high-quality dentist will make sure the implant restoration perfectly matches the color of your existing teeth and looks very natural. And since dental implants replace the roots of missing teeth (unlike other replacement options), they mimic natural tooth structure and actually look and feel more like your own teeth than anything else.
3. "A Dental Bridge Is Better"
After tooth loss, you have multiple options for replacement. A fixed dental bridge is one choice but it has a couple of drawbacks. First, it requires grinding down the two healthy adjacent teeth on either side of a missing space and putting crowns on them. These teeth then act as support for the bridge. Implants won't negatively affect other healthy teeth.
Also, a bridge doesn't replace the root of a missing tooth, only the crown. This leads to a loss of jawbone density in the area. Implants do replace missing roots, which preserves your jawbone and helps to maintain your facial structure. Finally, bridges only last about 10-15 years, while implants can last 30 or more.
4. "Dental Implants Hurt"
In terms of discomfort, implant procedures are often compared to having a tooth extracted. The appointment typically takes 1-2 hours per implant and you'll be fully numbed beforehand for comfort. You'll also have sedation options available if you'd like further relief from fear or anxiety.
The recovery process does involve mild to moderate swelling and tenderness for several days, but it's generally well-handled by over-the-counter pain medication.
Now that you have the facts about these 4 myths, you'll be better equipped to make the best decision for restoring your smile.
About the Author
Dr. Hal M. Lippard ("Dr. Hal") has decades of experience as a restorative dentist and is a graduate of the University of Tennessee in Memphis. With his dedication to outstanding restorative care, he always educates his patients about implants so they have the information they need to make a good decision. If you'd like clarification on dental implant myths in Charlottesville, you can reach Dr. Lippard through his website.