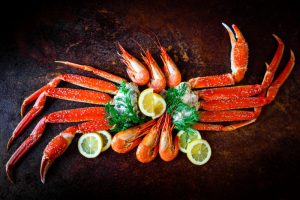 Most people know that fluoride is important for healthy teeth, but a lesser-known fact is that there are many sources to provide it for you. While continuing to use fluoride toothpaste is a great idea, there are quite a few food items and some beverages that can elevate your intake of the mineral.
Especially if your dentist recommends that you increase your fluoride levels, this is valuable information as you make your meal choices. Read on to discover some delicious options that have been benefitting your oral health whether you knew it or not!
Grapes, Raisins, and Wine
In all their forms, grapes contain fluoride. If you were searching for a reason to have another glass of wine, here you go – just be sure to brush your teeth later on due to the acidity and staining potential. Raisins have the most concentrated fluoride and the most sugar, so it's a give-and-take situation. In general, grapes are great for your health.
Potatoes
Baked potatoes, particularly russet potatoes, have a significant amount of fluoride. Any type of potato prepared in any fashion will have some fluoride, with French fries being on the lower end of the scale. If you are trying to justify having some fries with your burger, however, there you go.
Crab
A favorite seafood option of many, crab has a prominent level of fluoride. Crab legs are an excellent choice and blue crab specifically packs a beneficial amount of the mineral.
Shrimp
Like crab and some other shellfish varieties, shrimp are an excellent source of fluoride. Considering how many ways shrimp is served, this opens up a world of teeth-strengthening possibilities.
Raw Fruit
You'll be happy to know that most raw fruit has fluoride! Look to apples, bananas, peaches, watermelons, avocados –they are indeed fruit, and many others offer a tasty way to help your teeth.
Black Tea or Coffee
When you brew black tea with tap water, you'll get fluoride from two sources. The tea leaves contain the mineral. Similarly, if you brew coffee with tap water, you get a double dose of fluoride.
More Options to Consider
Just to give each a quick mention, here are some other items that contain fluoride: almond milk, light beer, black bean soup, white rice, oysters, asparagus, and cooked oatmeal, carrots, and spinach.
Is There Such a Thing as Too Much Fluoride?
Indeed, there is. The good news is that the risk of overexposure is pretty low in the food items mentioned here. Children need about 500 micrograms and adults require about 3,000-4,000 micrograms per day.
Why Does Fluoride Matter?
Fluoride is beneficial for teeth because it reduces cavities in adults and children. It is absorbed into your teeth' enamel. The mineral then goes to work replenishing your teeth' supply of phosphorous and calcium.
This is important because phosphorous and calcium work together to keep your teeth strong. The technical name for this process is "remineralization." Fluoride also helps stop tooth decay – thereby reducing the risk of developing cavities. If you aren't convinced by now, just ask your dentist in Charlottesville about fluoride during your next visit!
About the Author
Dr. Hal Lippard has been working for the smiles of patients in Charlottesville for decades now. He has cherished the opportunity to see many patients grow through their childhood years into becoming parents of their own. Dr. Lippard earned his Doctor of Dental Surgery from the University of Tennessee and went on to spend four years in the U.S. Army Dental Corps, building his skills at Lyster Army Hospital in Alabama. Charleston and Boston are two of his favorite cities to visit with his wife, and Dr. Lippard is getting plenty of opportunities to attain fluoride from seafood when he visits those destinations. If you want to ensure that your teeth are doing great, be sure to schedule a dental cleaning and exam with him by visiting his website or calling (434) 293-9311.