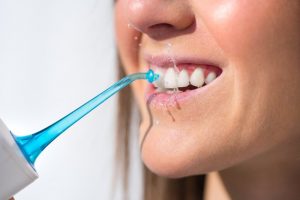 The Virginia Beach Boardwalk or Shenandoah National Park? Fresh oysters or country ham? Friday nights or Saturday nights?
Some decisions are easier than others. When it comes to cleaning in between teeth, dental floss and a Water Pik water flosser each has their own merits. Keep reading to learn from your dentist in Charlottesville about the pros and cons of dental floss, plus the benefits and drawbacks of the Water Pik, so that you can make the best choice for your oral health.
What Are the Attributes and Drawbacks to Using the Water Pik?
As a company, Water Pik began in 1962 as Aqua Tec Corporation with the invention of the oral irrigator. Water Pik is based in Fort Collins, Colorado.
You might potentially lean toward a Water Pik over floss if you wear braces or have nonremovable bridgework, crowns, or dental implants. Also, people with arthritis or those who have trouble maneuvering string floss may need the Water Pik. It is easy to use, gets into the hard-to-reach areas, and cleans between teeth that are very close together.
On the negative side, a Water Pik may not remove all plaque, plus it's messy and certainly much more expensive than buying dental floss. Also, it may take a while to figure out your preferred water temperature and power setting.
What Are the Pros and Cons When It Comes to Utilizing Dental Floss?
Dental floss dates back to prehistoric times and was first recommended in print by a book published in 1819. Floss of the 1800s was usually made from unwaxed silk and after World War II it was replaced by nylon. It's an important part of dental care to reduce the risk of gum disease and tooth decay.
The main benefit of floss is that it's easy to control so that you can clean each tooth in full. Maneuvering the floss in between teeth allows you to wipe each tooth clean before plaque can turn into tartar.
On the other hand, if you rely only on floss, some areas of your mouth may be unreachable. Also, you may have trouble flossing between teeth that are very close together. It's important to rinse your mouth after you floss to remove plaque and residue scraped free from teeth.
Decisions, Decisions for Your Oral Health
The American Dental Association approves each of these choices, assuming you do a thorough job. Research has shown there's minimal difference in plaque removal between these two. Be sure to brush at least twice per day and use your preferred method of cleaning in between your teeth at least once daily.
It's not crucial whether you choose flossing or the Water Pik – it's crucial that you choose one of them and utilize your preferred method daily. For further information, get your dentist's opinion on the matter during your next checkup and cleaning in Charlottesville.
About the Author
Dr. Hal Lippard has invested decades in helping his Charlottesville patients, and he's proud of the fact that several specialists he's worked with have mentioned what "delightful patients" he has. Many of them have counted on Dr. Lippard since they were kids, and he loves hearing about how their lives have evolved through the years. As a boy, one of his father's good friends became the family dentist, and that was instrumental to his developing interest in dentistry. Dr. Lippard earned his dental doctorate at the University of Tennessee and then spent four years in the U.S. Army Dental Corps. He is on board with you using the Water Pik or dental floss – just be sure to incorporate one of them into your oral hygiene regimen. He'll be ready to help when it's time for your dental cleaning and exam; you can schedule an appointment on his website or call (434) 293-9311.