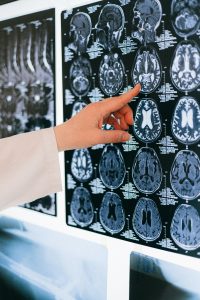 June is Alzheimer's and Brain Awareness Month, dedicated to encouraging people to support the fight against the disease and other dementias. Besides wearing purple to show your support, there is another step you can take to protect your brain health. Believe it or not, flossing is crucial to supporting a healthy brain. Research has discovered a link between gum disease and the risk of Alzheimer's disease. Flossing is a simple way to keep the infection at bay to safeguard your smile and brain. 
Link Between Gum Disease and Alzheimer's Disease
Gum disease is a leading cause of tooth loss in the U.S., despite being preventable. The infection results from bacteria found in plaque and tartar buildup caused by poor oral hygiene habits. Brushing isn't enough to prevent the infection because your toothbrush can only clean about 60% of your teeth surfaces. Floss is the only way to remove accumulations left behind by your toothbrush; however, one-third of Americans don't floss.
The Centers for Disease Control and Prevention estimates that 50% of adults have the infection, which can destroy the supporting structures of your teeth. Ultimately, this can lead to tooth loss, but the complications don't end there.
Bacteria from the infection can enter the bloodstream, wreaking havoc on your health as it circulates throughout your body. Gum disease has already been linked to various health issues, like cardiovascular disease, respiratory infections, and preterm delivery. New research has found a connection between gum disease and progressive neurodegenerative disorders.
According to a study published in Science Advances, researchers examined brain tissue from deceased people with Alzheimer's. They found pathogens from gum disease in the brain tissue and in the spinal fluid taken from living Alzheimer's patients.
Although further research is needed to determine the exact relation, dental and medical professionals recommend committing to your oral hygiene to safeguard your mouth and brain.
Preventing Gum Disease
Gum disease is common, but your smile doesn't have to become another casualty of the infection. You can protect your gum health by:
Brushing at least twice daily using a soft-bristled toothbrush and nonabrasive toothpaste.
Flossing between each tooth daily.
Visiting your dentist every 6 months for a cleaning and checkup.
Not smoking or drinking alcohol in excess.
Besides improving your oral hygiene, watch for any early signs of the infection, called gingivitis. It is best to schedule an appointment with your dentist right away if you develop:
Red, tender, or bleeding gums
Chronic bad breath
Gum recession
Gum inflammation
Bad taste in the mouth
Your dentist can treat the infection quickly before it causes irreversible damage to your dental or brain health. It's never too late to commit to a healthy mouth and body.
About Dr. Hal M. Lippard
Dr. Lippard earned his dental degree at the University of Tennessee College of Dentistry before spending 4 years in the U.S. Army Dental Corps. He has completed advanced continuing education in prosthodontics, periodontist, and oral surgeries. If you have symptoms of gum disease, contact our office today to schedule an appointment.