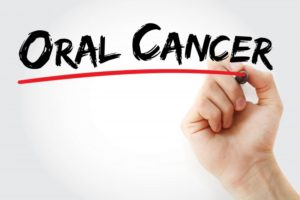 A lot is going on in November. You're probably still munching on Halloween candy while either dreading or looking forward to the Thanksgiving and Christmas season. But did you know that besides being the month of Thanksgiving, November is also Mouth Cancer Action Month? That means it's a perfect time to increase mouth cancer awareness in Charlottesville. A dentist is here to talk about what you need to watch out for to prevent and treat oral cancer.
Causes of Mouth Cancer
The main cause of oral cancer is still considered to be tobacco use. However, studies have shown that frequent and heavy use of alcohol can increase the risk by up to four times. Experts have also suggested that within the next decade, the Human Papilloma Virus (HPV), which is spread through oral sex, could overtake alcohol and tobacco as the main risk factor for oral cancer.
Men are more than twice as likely to contract the disease, although more and more cases are being seen in women. Another significant factor is age, with people over the age of 40 most likely to be diagnosed. Although, thanks to the recent rise of HPV, more and more young people are being affected than ever before.
Symptoms of Oral Cancer
If you experience any of the following symptoms, you should see your dentist in Charlottesville right away:
Persistent mouth sores that don't heal
White or red patches on the soft tissue of the mouth
Sore throat or chronic feeling that something is caught in the throat
Difficulty swallowing or chewing
Difficulty moving the jaw or tongue
Numbness of the tongue or other area of the mouth
Persistent bad breath
Weight loss or fatigue
How to Check for Mouth Cancer
The best way to check for mouth cancer is to regularly visit your dentist for checkups. At these appointments, your dentist can thoroughly examine your mouth, throat, head, and neck for any issues that could be signs of oral cancer. These visits should be at least once a year, if not twice.
In between dental appointments, however, you can still examine yourself for any abnormalities. Run your finger over the inside of your cheek, the roof of your mouth, the floor of your mouth, and front and sides of your neck to check for any lumps. Pull down your lower lip to check for any sores or changes in color. Check your tongue in the mirror as part of your daily oral hygiene routine. Ideally all of these things should be done every day, but if you do them at least twice a year, you should be good.
Oral cancer is a serious and often deadly disease. That's why you should visit your dentist at least once every six months to make sure you're free from it.
About the Author
Dr. Hal Lippard is a dentist in Charlottesville who, after earning his Doctor of Dental Surgery degree from the University of Tennessee, Memphis, served in the U.S. Army Dental Corps for 4 years. He spent another 17 years as a Dental Officer in the U.S. Army Reserves. He believes that the "smallness" of his practice allows him to develop real bonds with his patients. To schedule an appointment with a doctor who fosters relationships with entire families, click here to contact Dr. Hal's office.