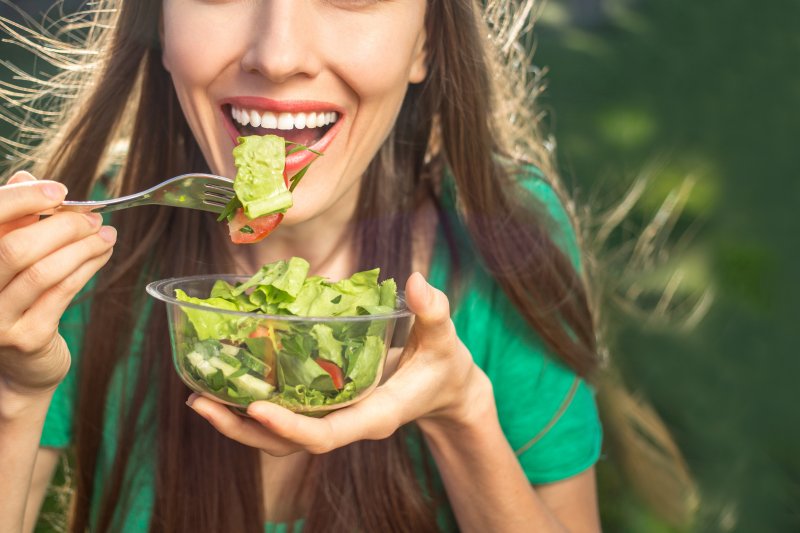 There's more to maintaining your oral health than just brushing and flossing your teeth on a regular basis. The foods you eat also play an important role. Thus, National Nutrition Month in Charlottesville is an excellent time to upgrade your food intake so you can have healthy teeth and gums and an attractive smile for years to come. Read on to get some key tips for what you can do in the month of March and beyond!
Why Making the Right Food Choices Matters
Unless you completely abstain from eating, your teeth and gums are bombarded by leftover particles from every meal you consume. While oral hygiene helps to mitigate some of the potential problems, like plaque buildup and cavity development, your food choices play a huge role as well. When you commit to a diet that incorporates more natural foods and less processed snacks, you'll more successfully keep oral bacteria at bay.
Oral Health-Friendly Foods
Three key nutrients you can get from food that contribute to excellent oral health are calcium, phosphorous and vitamin C. Here are some great sources:
Calcium – Promoting strong teeth and bones, this can be found in milk, yogurt, cheese, canned salmon, almonds and dark leafy vegetables.
Phosphorous – An excellent building block in the growth of bone cells, phosphorous can be found in eggs, fish, lean meat, dairy, nuts and beans.
Vitamin C – Citrus fruits like lemons, oranges and tomatoes, and vegetable choices like peppers, broccoli, potatoes and spinach are excellent sources of vitamin C. While promoting gum health, this key nutrient also aids in the prevention of oral cancer.
Proper Planning Prevents Poor Performance
The five 'P's don't just apply to performance in the worlds of sports and business; they are also integral in creating a consistent and effective eating regimen. If you're like most people, once your day gets underway, anything can happen. So if you prepare properly in advance, you can better accommodate any surprises. With a little bit of meal and snack planning, you can adjust on the fly and remain in accordance with your eating goals.
The key steps for effective execution are to prep, cook and pack your food ahead of time. Therefore, if you wake-up late or you have some other mishap that puts you a little behind schedule, you don't have to compromise your oral health by settling for fast foods or quick snacks that are loaded with sugar or other harmful ingredients.
There is Help for You
In addition to the commitments you make in your everyday life, it's also vital that you maintain regular visits to your local dentist for checkups and cleanings. These semi-annual appointments will also allow you to ask any questions you may have so you can further expand your dental IQ, while receiving a boost to your oral health in Charlottesville!
About the Author
Dr. Hal M. Lippard earned his dental degree from the University of Tennessee College of Dentistry in Memphis. He then went on to complete his general practice residency, where he gained valuable experience in a host of treatment areas. Dr. Lippard not only provides superb dental care, he also educates his patients on how they can enjoy the absolute best in dental health. He places prevention first at his private practice, and he can be reached for more information through his website.