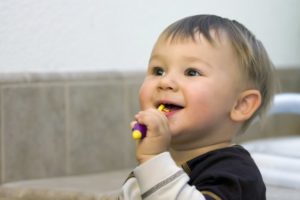 When we're talking about preventive dentistry, knowing is truly half the battle. We know that an overwhelming majority of people between the ages of 20 and 64 have had tooth decay at some point in their lives, according to the National Institute of Dental and Craniofacial Research. We also know that most cases of tooth decay can be prevented, especially if we work harder to inform the youngest individuals on the importance of daily care.
To protect your youngest family members from tooth decay, consider the following steps from your dentist in Charlottesville.
The Initial Dentist Visit
According to Dr. Joel H. Berg, DDS, a professor of pediatric dentistry and Dean of the University of Washington School of Dentistry, parents can help their children avoid numerous dental diseases when they know the right steps of preventive care. Children can avoid issues stemming from dental caries, periodontal disease, growth and developmental disorders, and other conditions when given the right information to do so.
One of the first places this process begins is at the dental office during their first visit. According to Berg, children should visit their dentist before their first birthday, even if they don't have any teeth. During this initial checkup, your dentist will examine your child's mouth and determine if a routine cleaning is necessary. They'll also discuss future treatments your child may want to consider, including fluoride treatments.
During the visit, you can ask any questions you may have, as well as go over what at-home care should look like.
Why At-Home Care Matters
While routine visits are essential, the bulk of prevention occurs right in your own bathroom. During the first couple years of life, you'll need to clean your child's gums for them using a clean washcloth and warm water.
As they reach the age of three, start using a tiny dental device specifically for brushing your toddler's teeth as they begin erupting. You should also begin using no more than a smear of fluoridated toothpaste the size of a grain of rice.
Once they hit six years of age, they can start brushing their teeth on their own. Make sure they use a dab of toothpaste no bigger than the size of a pea. Once they have two teeth that touch, they should begin flossing as well.
When they start brushing on their own, confirm that they're brushing for at least two minutes at a time. Use a timer or a song to help you both better measure this time frame.
Preparing for the Long-Term
In the end, teaching your child these habits is crucial to helping them understand the importance of daily care as they age. Eventually, they'll need to visit the dentist on their own and make adjustments to their routine as they see fit. However, the earlier you get them started, the easier establishing these oral care habits will be.
Have more questions on getting your child's oral care routine started! Schedule an appointment with your dentist in Charlottesville today!
About the Author
Dr. Hal M. Lippard earned his Doctor of Dental Surgery degree from the University of Tennessee Dental School in Memphis. He believes that ongoing education, both for parents and dentists alike, is crucial for his professional development and keeping patients healthy for years to come. To learn more about his practice, contact him through his website.